News
---
Do you order items through Amazon
If so, AmazonSmile is a website operated by Amazon with the same products, prices and shopping features as Amazon.co.uk. The difference is that when you shop on AmazonSmile, Amazon will donate 0.5% of the net purchase price (excluding VAT, returns and shipping fees) from your eligible AmazonSmile purchases.
Citizens Advice New Forest has registered as one of the charities to which donations can be made. Simply, select the AmazonSmile website rather than Amazon, continue ordering as normal, but make sure that you select New Forest Citizens Advice Bureau as the charity of your choice. Please encourage friends and family to support us by using AmazonSmile rather than Amazon and, of course, selecting CANF as the charity of their choice.
---
Big Thank You to New Milton Co-op Members!
The Co-op Local Community Fund has awarded Citizens Advice New Forest a total of £2666.68. Co-op member shoppers raised this money through buying Co-op branded products and services to support the work of the CA New Forest New Milton office.
CA New Forest CEO Malcolm Walker said "This is fantastic news, this is far more than we expected to raise. Thank you for all your efforts."
Citizens Advice work is very much needed but underfunded, the advice provided is free, independent, impartial and confidential for all. Fundraising is an ongoing challenge but plays a vital part in supporting our community here in the New Forest. Funds like this from Co-op Local Community Fund raised by local people is very much appreciated.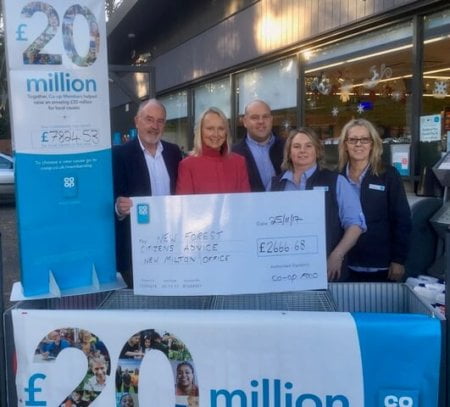 ---
Check Switch Save
22 to 28 January 2018
Citizens Advice New Forest is taking part in a national campaign to help you cut your fuel bills and get all the financial support you are entitled to.
In 2018 Big Energy Savings Week focuses on raising public awareness of how you can switch energy supplier or tariff to get the best deal, access discounts and make homes energy efficient. This is our 7th Big Energy Saving Week and is a partnership between Citizens Advice, the Energy Saving Trust and the Department of Business, Energy and Industrial Strategy with the support of numerous organisations, charities and companies.
You can use the Citizens Advice price comparison tool to compare prices from different energy suppliers.
Visit us to see how we can help you to Check Switch Save on your energy supplier bills.
CAB359_BESW_2018_A4_Poster_Eng_v2_WEB

---
Citizens Advice New Forest National Consumer Week
We're taking part in National ​Consumer ​Week ​(NCW) campaign. This ​is ​an ​annual ​consumer ​education ​campaign ​run ​by the ​Consumer ​Protection ​Partnership ​(CPP). ​This ​year's ​NCW ​will ​launch ​on ​27th November ​("Cyber ​Monday").
​The ​theme ​of ​this ​year's ​campaign ​will ​be ​issues ​with ​subscriptions ​and subscription ​traps. ​Because ​of ​the ​Cyber ​Monday ​launch, ​there ​will ​be ​a ​particular
focus ​on ​online ​subscription ​issues. ​
Click here for more information
NCW17_ poster_online

---
If you've experienced an act of violence or hostility because of who you are or someone thinks you are, you may have been the victim of a hate incident or hate crime.
We continually champion Equality; we are proud to announce that New Forest Citizens Advice offices are now third party Hate Crime Reporting Centres.
Please contact us if you want further help with information relating to hate crime and wish to report a hate crime incident/ crime.
Hate incidents and hate crime happen because of prejudice or hostility based on a person's disability, race, religion, sexual orientation or transgender identity.
The law considers hate incidents and hate crime to be particularly serious.
Further information is available from Citizens Advice website.
---
Give us your views on local maternity services.
The Local Maternity System is working to improve maternity services so women receive excellent care that is more personal and family friendly. Wessex Voices is carrying out a survey to understand experiences of using maternity services to help improve them and ensure women have an informed and empowered choice through their pregnancy and birth.
We want to hear from women and birthing partners who have had a baby in the last 12 months. Our website contains more information about the work and two short surveys (one for women and one for birthing partners) which should take between five and 15 minutes to complete. It will be open until the 30th September 2017. Take the Survey
Maternity Survey poster

---
---
2 Volunteers celebrate 21 years of service with Citizens Advice New Forest
Our Totton office staff and volunteers gathered for lunch, 30th June to celebrate Carole and Kirsten's 21 years long service with Citizens Advice New Forest. They both received a certificate and beautiful flower bouquets.
Operations Manager, Jeff Wiltshire said, 'I was delighted to celebrate with our Totton staff and volunteer team. Carole and Kirsten's 21 years of commitment is truly inspirational. They demonstrate unwavering dedication and commitment to our service and the support they provide our local community. 93% of our workforce are volunteers, without whom we would not be able to provide our service. We thank all our our volunteers and hope they all continue to support us for many years to come.'
---
Help Out When you Checkout
Collect FREE donations for New Forest Citizens Advice every time you shop online. Shops include Amazon, Argos, Tesco, John Lewis, Expedia, AA and Asos.
Did you know that whenever you buy anything online – from your weekly shop to your annual holiday – you could be collecting free donations for New Forest Citizens Advice?
There are over 3,000 shops and sites on board ready to make a donation, including Amazon, John Lewis, Aviva, thetrainline and Sainsbury's – it doesn't cost you a penny extra!
It's as easy as 1, 2, 3…
Head to the Easy Fundrasing website and join for free.
Every time you shop online, go to easyfundraising first to find the site you want and start shopping.
After you've checked out, that retailer will make a donation to your good cause for no extra cost whatsoever!
There are no catches or hidden charges and New Forest Citizens Advice Bureau will be really grateful for your donations.
Thank you
---
Help CA New Forest – New Milton office through your shopping!
CA New Forest – New Milton office is the charity selected for the Co-op Local Community Fund, which runs until 7th October 2017.
The funding for our cause will come from Co-op Members. Co-op give 1% of everything their shoppers spend on Co-op branded products and services to a local cause they choose.
Spread the news
Spread the word and support us and let people know about our involvement with the fund, the more members that support us and shop at Co-op, the more money we'll receive to carry on our vital work.
Anyone can become supporters. Here's the link to our Local Community Fund profile page: select 'join us' to support our cause.
Save
Save