Citizens Advice New Forest officially opened its new office in Hampshire County Council's Ringwood library on 2 November 2018.
The new office forms part of a recent £17,000 refurbishment project by Hampshire Library Service, which has enabled Citizens Advice and library staff to share a new customer helpdesk.
Invited guests and service users enjoyed a variety of activities from brushing up on IT skills to making poppies with local crafters. The launch event demonstrated the new opportunities sharing a community space brings to the service.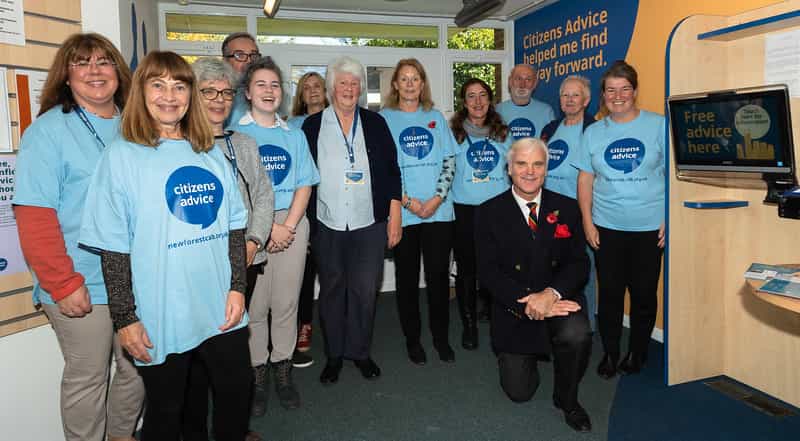 Glynne Miles, Vice chairman for Citizens Advice New Forest praised Jim Sanders, the Ringwood office manager, and his team of volunteers for their hard work in getting the new premises ready:
"They have done a brilliant job and it is great that they now have this improved environment to deliver our vital services.  It's very important too for our clients: It can take a lot of courage for clients to make the first step to seek out our services, and we hope that by offering them such a comfortable, pleasant environment, we can encourage them to talk to us before they reach crisis point."
Councillor Seán Woodward, Hampshire County Council's Executive Member for Recreation and Heritage, said: "We extend a warm welcome to Citizens Advice New Forest as this exciting collaboration begins. Working in this way enables the library to offer a range of highly valued community services for free, all under one roof – books, learning, IT, activities, and now advice on important issues such as wellbeing and debt.
"Ringwood Library is the latest example of how the service is joining forces with Citizens Advice. We hope to establish further collaborations in the future with them and similar partner organisations to benefit residents across the county. This approach will help make our libraries true community hubs at the heart of local neighbourhoods, helping Hampshire residents continue to thrive."
Local funders had given generously to make the move possible. New Forest District Council provide ongoing funding support to deliver Citizens Advice services across New Forest district. In addition, specific donations for the project have come from the Russell Trust Ringwood & District Older Peoples welfare Association, The Rotary Club of Ringwood, Ringwood Town Council, local Parish Councils, Ellingham & Ringwood Agricultural Society and Ringwood Waitrose.